When:
December 1, 2020 @ 3:30 pm – 5:00 pm
Where:
VIRTUAL MEETING
375 Harvard Street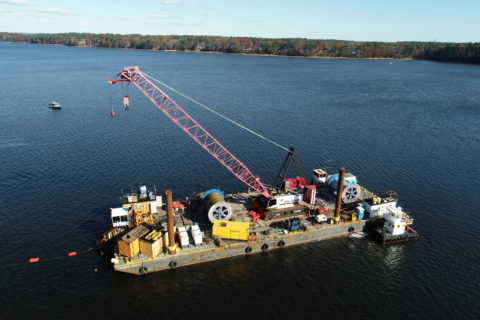 Please join the Environmental Business Council for an afternoon of collaborative discussion, as the team behind the 2020 EBC Nicholas Humber Environmental-Energy Award for Outstanding Collaboration joins us to discuss their award winning project, the Little Bay Submarine Cable Crossing Project.
The award-winning team members, including team leader Kurt Nelson (Eversource Energy), will present a project overview and focus on the art of team building and maintaining a strong professional network, adapting to project challenges, and the importance of communication when working with a diverse group of collaborators and stakeholders.
A robust moderated discussion will the award team will conclude the program.
This webinar is hosted by the EBC Ascending Professionals Committee.
Final Agenda – Spotlight on Outstanding Collaboration
Presentations are posted to the Presentations section of the EBC website.
Agenda
Program Chair:
Konrad Kulacki, Managing Scientist, Exponent
Award Winning Project Discussion
Kurt I. Nelson, Senior Land Use Licensing & Permitting Specialist,    Eversource Energy
Sarah Allen, Project Manager, Normandeau Associates, Inc.
Dena Champy, Project Manager, EN Engineering
Adam Dumville, Director and Vice Chair, Administrative Law Department, McLane Middleton
Jeff Nield, Senior Project Manager & New England Practice Leader, Environmental Design & Research (formerly of Jacobs)
Ann Pembroke, Vice President Marine Biology, Normandeau Associates, Inc.
Mike Sabulis, Senior Environmental Consultant, GEI Consultants, Inc.
Craig Swanson, PhD, Principal Associate, Swanson Environmental Associates LLC
Deborah Zarta Gier, Principal, GZA GeoEnvironmental, Inc.
Attendee List
Jim Ash GEI Consultants Sr. Vice President
Dimitrios Athanasiou Exponent Inc. Associate
Denise Bartone Eversource Energy Manager, Licensing & Permitting
Sarah Barum BSC Group, Inc. Wildlife and Rare Species Specialist
Michael Blaney National Grid Sr. Specialist
Marianne Bradley Normandeau Associates, Inc. Marketing Specialist
Jon Budreski ARE Corp Dir Business Development
Jennifer Buttaro Eversource Energy Senior Environmental Specialist
Timothy Cady Charter Contracting Company, LLC Director/Program Services
Lee Carbonneau Normandeau Associates, Inc. Sr. Principal Scientist
James Clancy Eversource Associate Environmental Specialist
Carley Corbo BSC Group, Inc. Civil Designer
Rebecca Cox GZA GeoEnvironmental, Inc. Sr. Project Manager
Polly Crocker Stone Environmental Senior Water Quality Specialist
Michael Dacey GeoInsight, Inc. Senior Consultant/PG
Joel Detty Normandeau Associates, Inc. Water Resources Scientist
Colin Duncan TRC Program Manager
Adrienne Fink Offshore Wind Consultants (OWC) Principal
Bob Gensemer GEI Consultants, Inc. Vice President
Christopher Hardy Mayflower Wind External Outreach and Communications Manager
Susan Kane Driscoll Exponent Inc. Senior Managing Scientist
Steve Knollmeyer Alpha Analytical VP Technical Sales
Konrad Kulacki Exponent Managing Scientist
Leonard Lord Tighe & Bond Sr. Environmental Scientist
Maureen Madray Normandeau Associates, Inc. Fisheries Scientist and Data Analyst
Gregor Mcgregor Mcgregor & Legere, PC Environmental Attorney
Christopher Newhall Eversource Energy Sr. Environmental Specialist
Kelly O'Neill BSC Group, Inc. Transportation Market Sector Lead
Leah Stanley BSC Group, Inc. GIS Analyst
Alexandra Steele Exponent Scientist
Flora Su GZA GeoEnvironmental, Inc. Environmental Engineer I
Tim Sullivan TRC Senior Project Manager
Timothy Sullivan TRC Senior Project Manager
Ellen Thomson Trinity Consultants Consultant
Matthew Waldrip Eversource Energy Supervisor – Licensing & Permitting
Victoria Ward GZA Assistant Project Manager
Thank you to our Silver Sponsor