EBC 26th Annual EBEE Awards and 29th Annual Meeting
Details
Date: June 19, 2019
EBC 26th Annual EBEE Awards and 29th Annual Meeting
June 19, 2019 @ 5:00 pm

-

September 28, 2021 @ 6:22 am
Each year, the Environmental Business Council of New England (EBC) recognizes companies, organizations and individuals for outstanding accomplishment in environmental management, energy resources and management, and climate change through the EBEE Awards. The EBEE Awards are presented at the EBC's Annual Award Celebration, held in June. These awards were established by the EBC to encourage companies, government agencies, non-profit organizations, and environmental professionals to serve as models for others to emulate and, in doing so, further the mission and objectives of the EBC.
2019 Annual Meeting and EBEE Awards Celebration
Wednesday, June 19, 2019
Cocktail Reception from 5:00 p.m. to 6:30 p.m.
Dinner and Awards Program from 6:30 p.m. to 8:30 p.m.
Newton Marriott Hotel
2345 Commonwealth Avenue
Newton, Massachusetts 02466
Massachusetts Governor Charlie Baker to Keynote the EBC EBEE Awards Celebration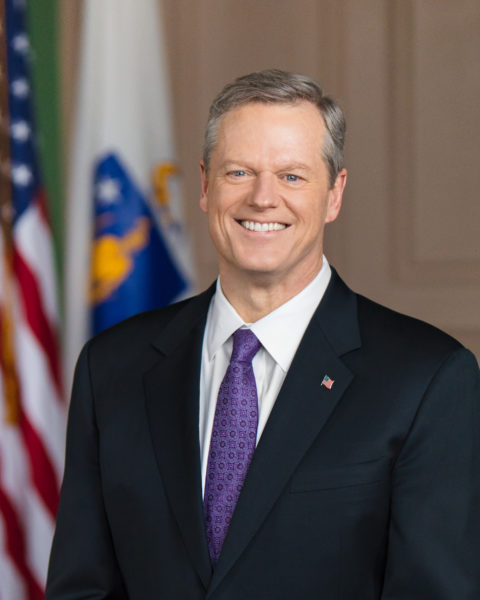 EBC is honored to announce that Governor Charlie Baker will be the keynote speaker at EBC's Annual EBEE Awards Celebration on Wednesday, June 19, 2019 at the Marriott Hotel in Newton, Massachusetts. He will also receive the EBC Paul G. Keough Award for Government Leadership.
Join EBC and your fellow colleagues and friends to hear from Governor Baker and to celebrate the winners of EBC's 2019 Annual EBEE Awards.
Governor Charlie Baker was sworn in for a second term as the 72nd Governor of the Commonwealth of Massachusetts on January 3, 2019, after a first term focused on moving Massachusetts forward through bipartisan, results-driven leadership.
Confronted with the challenges of rising energy costs and a changing climate, Governor Baker has taken nation-leading steps to diversify the Commonwealth's energy portfolio, safeguard residents, municipalities and businesses from the impacts of climate change, and secure progress toward greenhouse gas reduction targets.
Governor Baker has used public private partnerships to spur economic development, reformed the state's regulatory environment, and delivered critical tax relief by doubling the Earned Income Tax Credit.
Ensuring Massachusetts continues to be a national leader in education, Governor Baker has made historic investments in K-12 education, increased support for vocational and technical schools, and expanded early college opportunities for high school students.
Governor Baker has put Massachusetts at the forefront of fighting the opioid and heroin epidemic, doubling spending on prevention, education, treatment, and recovery and signing two major bills that have served as models for other states.
Governor Baker has spearheaded long overdue reforms at the MBTA that have led to significant improvements to operations and finances, and put the T on track to spend more than $8 billion on infrastructure over the next five years to improve riders' experience.
Prior to his election, Governor Baker was a highly successful leader of complex business and government organizations, serving as a cabinet secretary to both Governor William Weld and Paul Cellucci, and leading Harvard Pilgrim Health Care, as CEO, from the brink of bankruptcy to one of the nation's highest ranked health care providers.
Raised in Needham, Governor Baker and his wife Lauren reside in Swampscott, and are the proud parents of their three children, Charlie, AJ, and Caroline.
Announcing the Recipients of the 2019 EBC EBEE Awards
The Paul G. Keough Award for Government Leadership
Award Recipient: Charlie Baker, Governor, Commonwealth of Massachusetts
In Recognition of Outstanding Leadership in the Development and Support of Comprehensive Clean Renewable Energy Programs, Including Hydropower and Offshore Wind, and for the Aggressive Development of Climate Programs for the Commonwealth of Massachusetts
The Ira W. Leighton, Jr. Outstanding Innovative Technology Award
Award Project: Mt. Tom Solar & Energy Storage Project
In Recognition of the Development of the Largest Solar Project and the Largest Utility-Scale Energy Storage Installation in the Commonwealth of Massachusetts Following the Remediation of the Mt. Tom Coal Plant
Award Recipients:
ENGIE North America
Fischbach & Moore Electric Group, LLC
Foley Hoag LLP
Holyoke Gas & Electric
Tighe & Bond
The James D.P. Farrell Award for Brownfields-Remediation Project of the Year
Award Project: Citizens Bank Corporate Campus Brownfields Redevelopment Project
In Recognition of Remarkable Leadership by Citizens Bank for the Remediation and Redevelopment of the Tucker's Industrial Dump Brownfields Site into the $285 Million Citizens Bank Corporate Campus in Johnston, Rhode Island
Award Recipients:
Citizens Bank
DiPrete Engineering
DiGregorio Corporation
GZA GeoEnvironmental, Inc.
Hoffman Engineering, Inc.
Premier Land Development
Rhode Island Department of Environmental Management
Town of Johnston, Rhode Island
The EBC Award for Leadership by a Non-Profit Organization
Award Recipient: New England Aquarium
Award Project: Communicating Climate Change through the National Network for Ocean and Climate Change Interpretation (NNOCCI)
In Recognition of the Leadership by the New England Aquarium in Founding the National Network for Ocean and Climate Change Interpretation (NNOCCI) which Engages Environmental Educators and Scientists in Increasing Public Awareness of the Causes and Challenges of Climate Change Resulting in Positive Action
The Nicholas Humber Award for Outstanding Collaboration
Award Project: City of Boston's Climate Resilient Design Standards and Guidelines
In Recognition of the Proactive Steps Taken by the City of Boston to Address Acute and Chronic Flooding Due to Sea Level Rise and Storm Surge with the Preparation of an Online Tool, Climate Resilient Design Standards and Guidelines, to Translate Conceptual Flood Resilience Ideas into Feasible Projects
Award Recipients:
Boston Public Works Department
Boston Public Improvement Commission
Boston Planning and Development Agency
Boston Environment Department
Weston & Sampson
The John A.S. McGlennon Award for Corporate Leadership
Award Recipient: Vineyard Wind

In Recognition of Vineyard Wind's Corporate Commitment to Build the First Large Scale Offshore Wind Project in the United States, Providing 800 Megawatts of Power to Cape Cod
Sponsor the Annual EBEE Awards Celebration
Gain visibility and recognition for your company and sponsor the 2019 EBEE Awards Dinner, the EBC's most attended annual program. Sponsorship increases the presence and visibility of your company and identifies your company as a leader in the industry. Your logo will be displayed in front of 300+ attendees and program messages will reach those attendees via the program book.
Registration for sponsorship closes on Friday, May 3, 2019 at 5:00 p.m.
Thank you to the 2019 EBC EBEE Award Sponsors
Register to Attend
Register now and help us congratulate the winners in style at this exciting event! Mingle with clients, colleagues, and VIPs at an open bar reception followed by a gourmet dinner at the Newton Marriott Hotel.
Single Ticket, EBC Member: $200
Single Ticket, Non-member: $250
Single Ticket, Government or Nonprofit Affiliation: $50
Table of Eight, EBC Member: $1200
Table of Eight, EBC Non-member: $1400
Table of Eight, Government or Nonprofit Affiliation: $400
All ticket and table purchases are non-refundable after 5:00 p.m. on Wednesday, June 12, 2019.
Registration has closed as of 5:00 p.m. on Monday, June 17, 2019.
Upcoming Programs & Events